Rahul Singh is a world-famous wildlife photographer from Jalpaiguri, India. For the past seven years, he has captured and photographed wildlife around his home. He got amazing shots with different animal species such as monkeys, deer, elephants, jackals, and rhinos. Besides all of these, his real passion is photographing beautiful and colorful birds he can find around his home. In August 2021, he captured a shot of bathing a small bird which became a turning point in his life.
"I visited a place that consisted of bushes including these ornamental bananas. I went there to take photos of sunbirds that use to suck nectar from these banana flowers." Singh said. In a bowl-like petal of a red banana flower, an early morning drizzle has collected. A four-inch-long sunbird didn't want to waste those on a hot day in summer. After the Crimson sunbird had nectar she started to use the petal as a bathtub.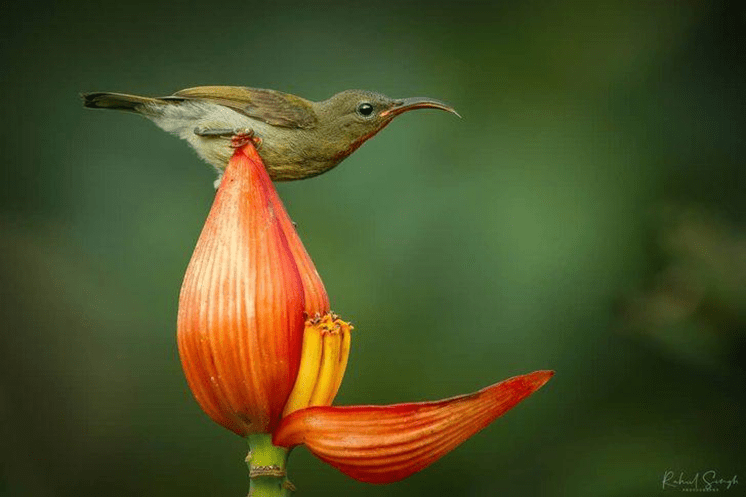 "Everything was usual like on other days. Suddenly, a crimson sunbird started to take a bath in water stored in a petal of a banana flower. At that moment I was actually shocked" he said. Even though he spent seven years in wildlife photography and watching birds, he had never seen anything like it before. "I Kept the camera's shutter button pressed when I saw this unusual behavior" Rahul said.
"It was actually a once-in-a-lifetime moment. I was so happy to be at the right time at the right place to click that fairytale-like moment. It's an example of how nature can surprise us. It's amazing." Rahul said.
Rahul Singh shared those precious images on his Instagram and thousands of people reacted and shared them.