When considering natural artworks, there is an unforgettable person. You must have definitely heard about his name and also about his amazing artworks.  He has created around 200 artworks within a period of ten years. He has used lots of natural materials to create those artworks such as snow, stones, grass, clay, and even his body! He is a very skilled photographer and a sculptor and he didn't only work with nature, he was in nature when doing his artworks. In this article, I'm going to bring you lots of things you didn't know about Andy Goldsworthy and some of his famous artworks.
Who is Andy Goldsworthy?
I know you have heard the name, Andy Goldsworthy. But do you know who is he? Here are some information about his life and career. He was born in Cheshire in England on 25th July 1956. His parents were Muriel Goldsworthy and F. Allin. His father was a mathematics professor in the local university. They were strict Methodists. At the age of 13, he started to work in nearby farms on his weekends and summers. He had different interests from that age. Instead of using heavy machinery, he used to do manual meditative quality tasks.
                He believed that he would be a farmer or a gardener and art would be his hobby. He was lack of confidence when he applied for several art schools. He was not selected for many of them but finally in 1974, he was accepted to Bradford College of Art as a foundation student. After finishing his foundation course he struggled again to find a place to complete his degree. Finally, he studied at Preston polytechnic in Lancaster from 1975 to 1978 and completed his degree.
                In his art school, he couldn't stand and work in a studio. So he moved outdoors and explore himself. This habit changed his works and shaped his future career. His professors identified the artist inside him and introduced him to Robert Smithson and Joseph Beuys who were great artists. And also Andy was inspired by their works. From that point onwards his recognition and nature of artworks grew and he became an uncommon artist with some uncommon arts.
In 1982, he married Judith Gregson who was a sculptor. Within a few months, she got a job in Carlisle and they moved to the north. A few years later they crossed the border to Scotland and started to live in the village of Penpont where Andy Goldsworthy still lives. They had four children called James, Holly, Anna, and Thomas.
                By the end of the 1990s, Andy Goldsworthy was a well-known artist around the world. Most of the people loved his works and his creativity but some artists criticized him because he was beautifying nature solely. In the early 2000s, Cornell University in New York appointed him as a visiting professor and he held that position for a decade. And also Commonwealth rewarded him with OBE (Order of the British Empire) for his contribution to the arts. Around the same time, Goldsworthy and Gregson divorced.
                He met Tina Fiske when participating in a project soon after his divorce and they started to love each other. They never married and had a son called Joel and they still live together. His former wife, Judith died from a car accident in 2008 and a few years later his mother also died unexpectedly. He is old now but he still continues his artworks with the support of his daughter Holly.
What are his masterpieces?
                Andy Goldsworthy has a distinct art style and you can see it through the land arts he created. His artworks were inspired by Robert Smithson, Walter de Maria, and Richard Long. He used natural elements like ice, snow, mud, grass, bright colored leaves, stones, and clay for his sculptures. When constructing his sculptures he only used his hands, teeth, and some found tools only. Among the number of sculptures and artworks created by Andy Goldsworthy, there are some of them stand out because of their contribution to the land art movement.  Here are some interesting information about those artworks and sculptures.
# Rain Shadows
He created this piece of art in 1984. It was the beginning of his outdoor arts which did with whatever found objects. This was also the beginning of his body imprint series. To create this artwork Andy Goldsworthy laid down on the ground before a rain began and remained on the spot until the rain stopped. It created a shadow of his body on the ground and the only remaining proof of this artwork is a photograph that Andy took right after the end of the storm. The latest body imprint of this series was the rain shadow done by Andy Goldsworthy at Times Square in 2010.
# Japanese Maple Leaves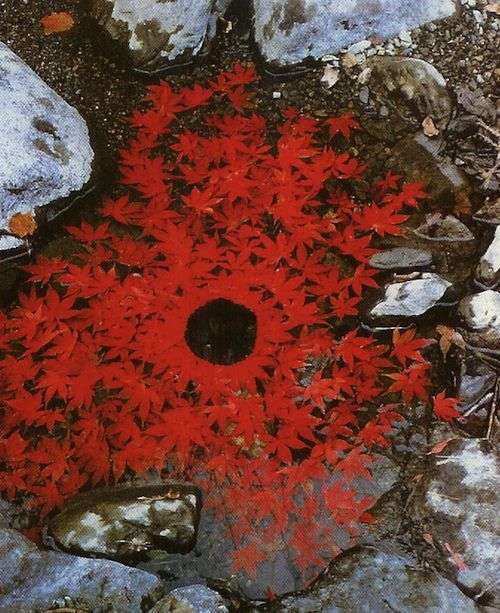 This is one of his well-known pieces of art which became famous due to the intense color he used in this. And also this is one of his artworks did in overseas. In 1987 he traveled to Ouchiyama in Japan to create an artwork and he created this using Japanese red maple leaves that is native to Japan. He sew them together in a shape of a chain on the water. Sometimes when you first see this art, you may wonder what medium is used for it. Sometimes you may see it like a pile of leaves. But there is a true beauty behind it because of the vivid red color of those Japanese maple leaves.
                Even though he has worked with red color before, the vivid red color of the maple leaves he saw in the japan was the brightest and strongest red color he had ever seen according to him. When he was doing this artwork on the water, he could bring the colors of those leaves alive. Afterward this work, he started to focus on extracting the true colors of the material he used to create his artworks.
# Storm King Wall
Storm King Wall is known as the first permanent artwork done by Andy Goldsworthy. He built this from 1997 to 1998 in the United States with the support of a team of 4 men. And also it is the most determined and largest single piece which is installed. Originally this was a dry stone wall which was snaked through the woods for 750 feet. Then it was extended and continued to a pond which was nearby. Goldsworthy built this wall placing a stone by stone remembering a wall of an old farm which he found in the woods. This wall clearly illustrates the nature-based constructing methods used by Goldsworthy.
When finishing the wall, the total length of it was 2278 feet and the height was about five feet. To build this wall Goldsworthy has used 1578 tons of fieldstone. But the thing is he hasn't used anything to stack those stones and has placed those stones over one another in a way that creates traction between them.
# Five Men, Seventeen Days, Fifteen Boulders, One Wall
This was another amazing wall created by Andy Goldsworthy and the crew who built the Storm King wall. The other specialty about this is, it was started to build on the 50th anniversary of the Storm King Wall, in 2010. Goldsworthy and his five men team modified and rebuilt a 309 feet long wall in America in 17 days. And they gradually tapered off the ends of that wall to bring an ancient look on it. Along its path, it has 15 boulders. With all of these, the wall was named after them. "Five men, Seventeen Days, Fifteen Boulders, One Wall".
# Moonlit Path
This creation was done by Goldsworthy in Petworth Park in Sussex. He delineated a path through the woods using white chalk. It was designed to experience in the moonlight of a full moon. When the white light of the moon is reflected on chalks, it creates a luminescent path guiding visitors to walk through those woods in the night. For the people who used to walk with artificial light in the night, this became a very amazing experience and the limited vision helped them to intensify other senses. The quietness and darkness in the woods allowed visitors to experience the smells and sounds associated with the woods and animals in there while reminding them that they are also a kind of animal.
# Icicle Star
This is an artwork done by Goldsworthy in 1987 in Penpont, Dumfriesshire. He did this artwork in the early hours of the morning to avoid the temperature and sunlight. He used only his bare hands and saliva to attach these icicles. It was an artwork that required a high level of skill and patient to create. He had to do lots of hard work to complete this Icicle Star. Because of the unpredictability, he had to hold each piece of ice for many minutes to attach with each other and remain without falling. Can you imagine how painful it is to do with bare hands? Without a doubt, this is one of the artworks that proves the dedication and patient of Andy Goldsworthy.